Pumpkins: A Healthy Fall Food Choice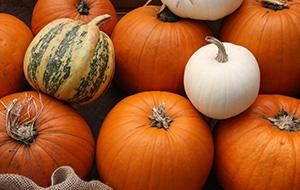 Seasonal cooking is all about enjoying ultimate freshness and higher nutrition, and during the fall season, the pumpkin is a perfect pick for healthy in-season eating. Pumpkins are chock-full of beta carotene, a plant carotenoid which is converted to vitamin A in the body. And foods high in beta carotene may offer protection against some degenerative aspects of aging, may offer protection against heart disease, and may reduce the risk of developing certain types of cancer.
For a tasty, delicious fall breakfast, make a stack of these pumpkin pancakes using fresh pumpkin puree.
Pumpkin Pancakes
Ingredients
1 cup all-purpose flour
1 teaspoon baking powder
1 teaspoon pumpkin pie spice
½ teaspoon salt
1 egg
2 cups pumpkin puree
3-4 tablespoons buttermilk
½ cup molasses
2 tablespoons unsalted butter, melted
½ cup chopped pecans
Powdered sugar for dusting
Syrup, for serving
Preparation
Sift together flour, baking powder, pumpkin pie spice and salt in a large bowl. Set aside. In a separate bowl, lightly beat egg. Add pumpkin puree, buttermilk, molasses and melted butter. Mix until smooth. Add the dry flour mixture; mix until batter is smooth. Allow batter to rest for 30 minutes. Stir pecans into batter. If batter is too thick, you can add an additional tablespoon of buttermilk. To make pancakes, spoon a heaping tablespoon of batter onto a lightly greased preheated heavy skillet. With the back of the spoon, flatten batter to about½-inch-thick. Cook slowly until bottom is golden brown and bubbles appear on top. Lift edge to check. Turn and cook until other side is golden brown. Place on a platter and keep pancakes warm until all the batter is used. Garnish by dusting with powdered sugar. Serve with syrup. MAKES 24 3-INCH PANCAKES